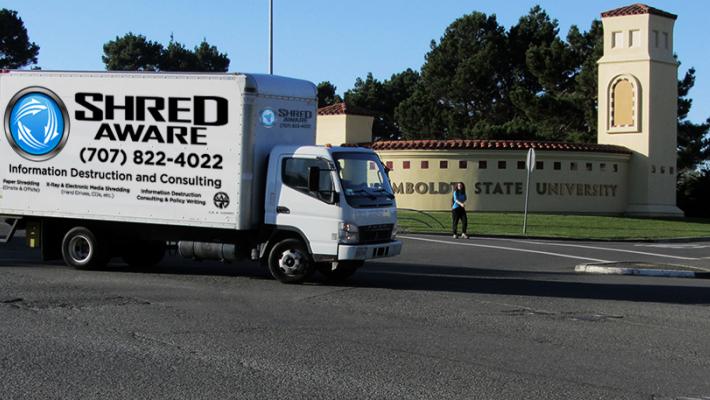 Paper Shredding Services for Businesses and Individuals
We are happy to be able to provide local paper shredding services for both business and individuals in Humboldt County and the surrounding areas. We strive to make this service as specific to the needs of each individual customer as possible— let us know how we can better serve you! Thank you for considering Shred Aware as your solution for confidential document destruction.
Regular/One-Time
Regular Service
We offer a regular service, in which we can drop off a locking container to secure and protect documents between pickups, and we can help to arrange a pick up schedule that best suits your company's needs.
Shred Aware offers a range of 

bin sizes,

 from rolling bins with a 200 lb capacity to smaller, 30 lb capacity bins, which fit discreetly under one's desk. 

   

Our pickup schedule is not something we assign to you; it is completely based on the volume of paper you produce, giving you the most convenience and the lowest cost. Because we are a local company, pick up schedules can be flexible and can be made as frequently or infrequently as you require.

We issue a Certificate of Destruction with every invoice, which includes the dates your material was picked up and destroyed, so you can be confident that your material was shredded in a timely and secure manner.
One-Time Service
Shred Aware is also available for one-time service to pick up boxes, bags, or loose paper at a time most convenient for you.
Our one-time service is ideal for end-of-the-year cleaning or purging of outdated files. This is a wonderful way to create extra space in your home or business.

Whether you're purging the contents of an entire warehouse or you simply have a few boxes of material to shred, Shred Aware can help. No job is too big or too small.

We offer competitive rates; your satisfaction is our goal.

A Certificate of Destruction is issued for every pick up which includes the dates your material was picked up and destroyed, so you can be confident that your material was shredded in a timely and secure manner.
If you have a small amount of material to shred or if your schedule is too hectic for a pick-up, you can bring documents to our drop off locations in Fortuna, Eureka or McKinleyville, at your convenience.
Onsite/Offsite Services
Onsite Shredding
Both our regular and one-time services are available for onsite or offsite shredding. Let us know which you would prefer when you schedule your appointment!
With Shred Aware's onsite shredding service, we shred documents right in front of you, at your location. Our mobile shred truck can shred a full bin of paper in just a few minutes. Some companies require that all of their shredding be done onsite, and Shred Aware can save you the time, effort, and money of attempting to do so in-house.
Offsite Shredding
With our offsite shredding service, we pick up material at your location at your convenience with our secure box truck. Material is delivered to our secure facility in Eureka, where it is promptly destroyed with our industrial shredders. This option is not only quick and convenient, but it tends to be best for regularly scheduled customers as it is non-disruptive to the workplace.
We pick up from the following cities:
Eureka
Fortuna
Garberville
Arcata
Mckinleyville
Blue Lake
Ferndale
Rio Dell
Trinidad
Crescent City
Redding
Willits
Fort Bragg
Ukiah