Containers
Bins are available to both our one-time and regular service customers. Whether your business produces enough paper to fill bins regularly or you're a one-time customer that needs a bin to help sort papers that have been stored in your attic for years, Shred Aware can help! 
All bins include locking tops and keys for your security, and we can supply as many or as few bins as you need. Since Shred Aware is local to Humboldt County and the surrounding areas, we can arrange a pick-up schedule that is as frequent and flexible as you require. 
Large Volume/Purging: 100 - 200 lbs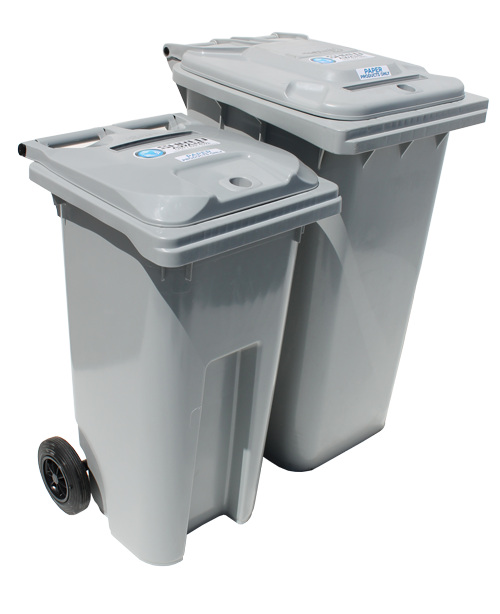 The 32 and 64-gallon bins hold approximately 100 and 200 lbs of paper material respectively, and are designed for businesses producing large volumes of paper. Both bins are equipped with wheels for convenient placement and necessary adjustments.
Our 64 gallon bins are also perfect to have on hand for businesses or individuals planning to purge a large volume of material at once. We can drop off as many bins as you like so you have a convenient place to store all of your documents as you sort through them, or clear out full areas. As bins are filled, simply call us and we will drop by to shred and, if need be, replace them. We are also happy to help you load paper into the bins!
Moderate Volume: 40 - 70 lbs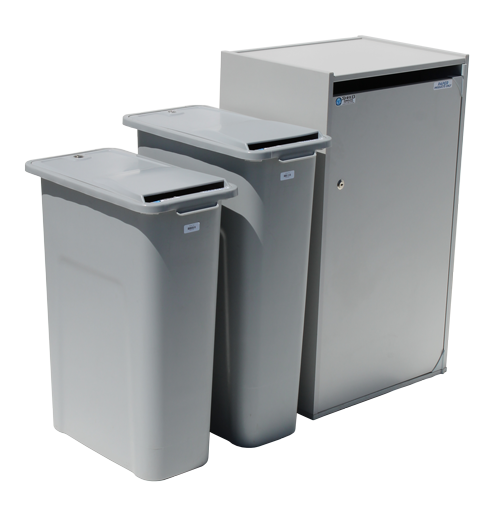 Available in 40, 50, and 70 lb capacity, these bins are ideal for businesses generating at least 10 lbs of paper to be shredded per month. We have containers for a variety of office configurations; narrow containers for offices in which space is limited or slightly bulkier containers that are designed to blend in with office furniture.
Low Volume: 30 lbs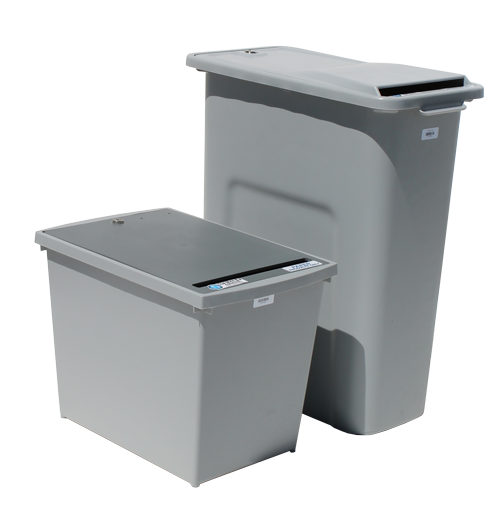 The Personal Document Container (PDC) and the 24" shreddinator are designed to fit beside or under a desk to secure sensitive documents at an arm's reach. With a holding capacity of 30lbs, it is the perfect solution for individual offices. Many of our customers prefer to have one of our larger bins in a common area, while one smaller bin is available under each employee's desk for convenience.
Specifications
| Bin Type | Capacity | Width | Depth | Height |
| --- | --- | --- | --- | --- |
| 64 Gallon | 200 lbs | 23" | 29" | 42" |
| 32 Gallon | 100 lbs | 19.5" | 21.5" | 38" |
| Slim Boy | 70 lbs | 21.5" | 16" | 36" |
| 30" Shreddinator | 50 lbs | 20" | 11" | 30" |
| 27" Shreddinator | 40 lbs | 20" | 11" | 27" |
| 24" Shreddinator | 30 lbs | 20" | 11" | 24" |
| Personal Document Container (PDC) | 30 lbs | 12" | 16.75" | 13.25" |