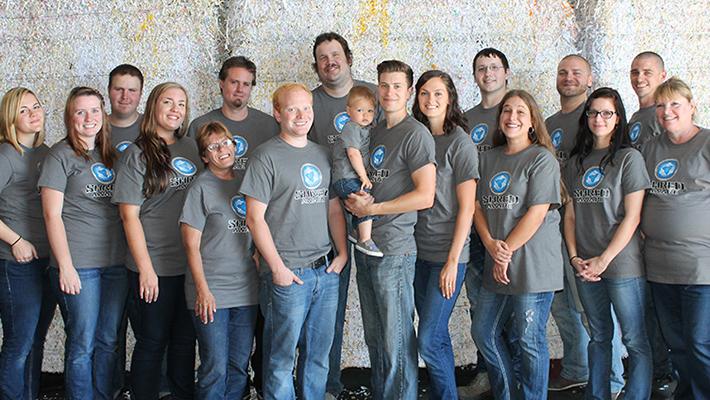 About Us
OUR GOAL: To offer secure information destruction and consulting solutions to Humboldt County businesses and individuals while keeping our focus on convenience and exceptional customer service. We strive to make our services as specific to the needs of each individual customer as possible.
How We Got Started
Shred Aware was founded in 2009 when third-generation Humboldt native Kyle Visser recognized the need for a secure, local document destruction company in our community. He opened his business, originally called Shred Tec, in a small Arcata warehouse and began shredding documents for local businesses and individuals.
As more companies began to trust and utilize our services we quickly outgrew this first warehouse and shredding equipment. So Kyle and his wife Natalie moved operations to a building they purchased in Eureka in 2013. Now, the company is housed in a much larger warehouse and office facility on the corner of 3rd and X streets -- it's better suited for the scale of information destruction required to service our community's needs. Read more about the services we offer.
We adopted a new direction in September 2014 when we changed our name to Shred Aware and look forward to a bright future servicing the information destruction and protection needs of Humboldt County.
How We Give Back
Working with Developed Employment Services
We work closely with our sister company Developed Employment Services, a business dedicated to creating connections to the community for people with developmental disabilities. Developed Employment Services helps us fill available positions with individuals that have developmental disabilities. These employment opportunities offer individuals long-term employment and training, benefitting both the individuals and our community.
Employing those with developmental disabilities is not done at the expense of security or safety. There is always a supervisor present to make sure confidentiality is maintained and that everyone remains safe at all times.
Awards and Activities in Business Community
First certified Green Business in Eureka. Certified by Plan It Green in 2013.
Business of the Year, Northwest Committee for employment of people with disabilities
Green Business of the Year, Arcata Chamber of Commerce, 2012
Small Business of the Year, Eureka Chamber of Commerce, 2014
Shred Aware is also an active member of the Chambers of Commerce in Eureka, Arcata, McKinleyville, Fortuna, Rio Dell/Scotia, Ferndale, Garberville, Crescent City, Willow Creek, Trinity County, and Redding.